Our Hobart Food Pantry was founded in 1982.
The Hobart Food Pantry is dedicated to providing for the needs of the people by collecting and distributing food and grocery products, educating the community about hunger, and collaborating with others who address basic human needs. The Clients: We serve an average of 175 households per week. For the 2021 holidays, we served 240 families for Thanksgiving and 280 for Christmas. We were able to provide each household a turkey or ham for the holiday, along with fresh milk, eggs, breads, fruits & vegetables and non-perishable items to give nourishment to their family. All of our qualified clients can come to our pantry every week. This is not a practice that most community pantries can offer. Most community pantries can only assist a client once a month. We are very proud to provide this weekly service.
The Food
The food we distribute is donated to us through food drives, individuals, businesses, churches, schools, and community organizations. We continue to be blessed with a great variety of food to offer our clients thanks to these community food collections. We are not a partner with Indiana Food Bank. We do not have any city, state or government ties. We operate on the generosity of our community. We have produce, bread, meat, and bakery items donated to us by our local grocery stores. We do have refrigerators and freezers for the perishable donations and purchases.
The Volunteers
Volunteers continue to be the lifeblood of our Pantry. We are an ALL-VOLUNTEER organization. We have about 40 consistent volunteers. We have volunteer hours listed if you are interested. Please call us for further information. We are always looking for new recruits.
The Funds
On average our monthly expenses have increased during the last couple of years and we now spend between $10,000 and $12,000 each month to keep our doors open.  We buy milk, eggs, and meat on a weekly basis. Twice a year we use funds to place a large grocery order. Our funds come to us through local grants, individuals, businesses, churches, and community organizations. We depend on the community's generosity to help us meet these needs.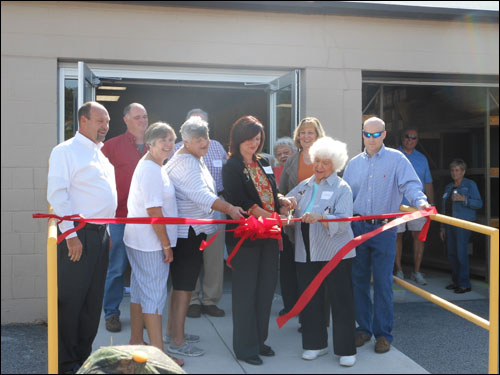 Our Board of Directors
Denise Mann - President
Cathy Jackson - Vice President and Executive Director
Karen Robbins CPA - Treasurer
Maggie Diaz - Secretary
Mary Adams
Elaine Haller
Pam Caldwell
Terry Butler
Mike Rogers