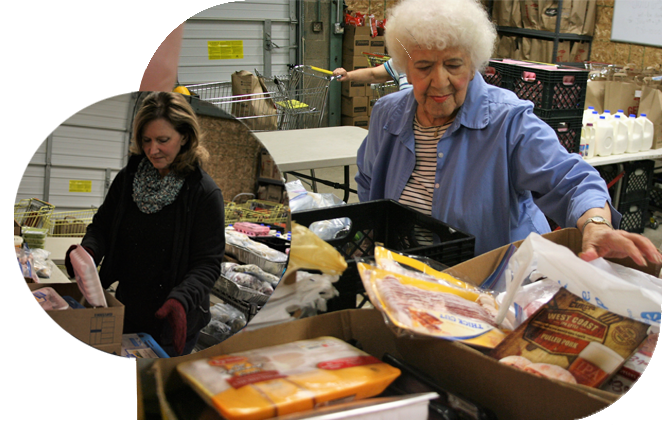 COMMUNITY ANNOUNCEMENT
Dear Friends of the Hobart Food Pantry,
Executive Director, Cathy Jackson, and all the volunteers of the Hobart Food Pantry wish you and your family a Happy Holiday season and a Happy and Healthy New Year for 2022!
We truly feel we make a difference to help eliminate hunger here at the Pantry for the families and seniors of Hobart that need us. Thank you so much for your support. Your commitment is the key to our success.
Some highlights from this past year include…
The retirement of our long time Executive Director, Theresia Larimore and the appointment of our new Director, Cathy Jackson. Theresia and Cathy worked together closely for the past couple of years, so the transition went smoothly, and we didn't miss a beat in serving our families and seniors. A HUGE thank you to Theresia for her 20+ years of dedicated VOLUNTEER service to the food pantry!!
We have continued to assist our clients through the COVID pandemic with contactless service, every week, on Tuesday and Thursday, and over the past year and a half we've not had any break in distribution!
While COVID has impacted all of us, we could not have kept our doors open without the GENEROUS support of the Hobart Community. From receiving a donation from a little girl who collected non-perishables for her birthday, instead of presents, to our very successful Kiwanis Food Drive in September, to the School City of Hobart Holiday food drives, to receiving monetary donations from local businesses, organizations, and individuals, we feel very blessed and fortunate to have such a giving community!
Lastly, we could not have continued to operate without our WONDERFUL volunteers who are the backbone of the Hobart Food Pantry! All are loyal and dedicated to the smooth running of the pantry and serving our families on a weekly basis! THANK YOU! THANK YOU!
Best wishes for a happy and healthy new year!